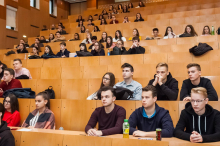 Covid-19 pandemic did not affect the international cooperation of Ivano-Frankivsk National Technical University of Oil and Gas. Thus, students of the Institute of Petroleum Engineering were trained at the University of Miskolc (Hungary) within the support of the Erasmus+ Programme of the European Union. Despite the difficult year, it was a good opportunity for them to expand their international contacts, practice English and learn more about Hungary.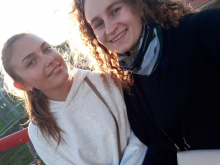 Maryna Mokliak and Anna Lysenko, students of group НІВм-20-1, shared their impressions of studying in Hungary. They said that they always wanted to study abroad, get acquainted with other students, cultures, traditions. Thanks to the university and the Center for International Cooperation (CIC) in particular, they could realize their dream: "When we were the first year students, we were regularly searching the university website, we noticed that there were opportunities for senior students to study abroad. Later, we began to be more interested in this issue and got knew that, as a student of IFNTUOG, there is an opportunity to study in Poland, Hungary, Romania and other countries. A year ago, among the announcements on the university's website, we saw that a competition to study in two counties: Hungary and Poland was being held. Without thinking for a long time, we decided to apply for studies in Hungary, namely at the University of Miskolc".
Although the pandemic situation didn't hinder the exchange program, the logistics of sending students abroad  was still more difficult to deal with. "Release of documents, visa and border crossing proved to be difficult procedures under quarantine conditions. But thanks to the efforts of the CIC staff, we were still able to make our dream come true. Our mentors met us after crossing the border and reaching Miskolc and helped us settle into our hostel, where we spent our mandatory 10-day quarantine. Just after the quarantine, we began to explore the outskirts of the new town and started our university studies. And without exaggeration, it was the best experience for us, which changed our thinking, approach to life, learning and even affected our worldview".
According to the students, Covid-19 pandemic made changes in studies, the classes were held online: "We started our studies in October, and in November switched to online training, we were able to enjoy offline studies for only one month. Distance learning began here just like in Ukraine (March 2020), and in September individual classes were restored, although it did not last long and distance learning began again in November 2020 (up to this day). Each class lasts 3 hours (lecture session) and 2 hours (practical session), with a break between (the time of the break is agreed with the students, so it can be both 10 minutes and half an hour). During the classes, students have laptops. During distance learning, it is possible to connect to laptops using the program TeamViewer".
Students advise not to be afraid, to try, to develop, because the university provides all opportunities for this.
​​​​​​​