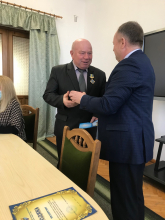 In early March, within the cooperation in the educational oil and gas sector and on the occasion of the 75th anniversary of Drohobych Petroleum Gas College foundation, the delegation of the Ivano-Frankivsk National Technical University of Oil and Gas, consisting of the First Vice-Rector, Prof. O. Mandryk, the Director of the Institute of Petroleum Engineering O.Vytiaz, the Director of the Institute of Mechnical Engineering (by the way, college graduate in 1971, major in "Oil and Gas Field Equipment") L.Romanyshyn, the Director of the Institute of Tourism and Geosciences V.Omelchenko, the Head of the Academic Office Ya.Shtanko and the Executive Secretary of Admission Board Ya.Koval visited the institution.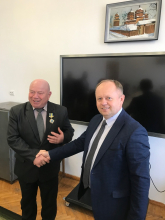 The institutions, which have been partners for a long time, were united by cooperation agreement in providing the oil and gas industry of Ukraine with specialists. Therefore, many college graduates obtain higher education in chosen specialty at IFNTUOG. The university delegation participated in teacher's meeting of the college, where they discussed in details the issues of cooperation within the provision of education continuity: high schooler – college student – IFNTUOG student – qualified professional for petroleum industry in Ukraine and the university's opportunities for college graduates in the implementation of their professional intentions using the mechanism of dual education. During the meeting, the parties discussed further prospects for cooperation within the work of oil and gas sector and further training of qualified professionals for petroleum industry.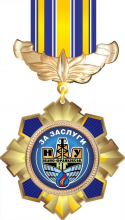 The guests also congratulated the college staff on the anniversary. The First Vice-Rector of IFNTUOG Oleh Mandryk, in his welcome speech, noted that "close cooperation of educational institutions, organized over the years, gives significant results which are achieved through joint efforts". The representatives of the administration, college staff and IFNTUOG Training and Consulting Center staff, which operates within Drohobych Petroleum Gas College were awarded with certificates of appreciation, letters of acknowledgement and pleasant gifts. In particular, the Head of the College M.Babiak was given a medal "For Merit to the IFNTUOG", Assistant Director for the Teaching Department V.Bolonnyi and Director of Training and Consulting Center R.Hrabovskyi were given merit certificates according to the Order №38/4 as of 26.02. 2021 for long-term cooperation with the university.
We congratulate our partners on the anniversary and wish them success!