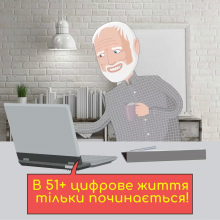 The Ivano-Frankivsk National Technical University of Oil and Gas is implementing the project eMS  - 730 eDigiStars – "Building of digital entrepreneurial capacities of the elderly through the innovative training system" within "Interreg - Danube Transnational Programme".
The main main objective of the project is to expand capacities of the elderly at the digital labor market for increasing self-employment, organizing qualified personnel with new digital competencies for business and social needs by ensuring the sustainability of innovation ecosystems at the territory of Danube Region. The achievement of the main aim provides the realization of the following tasks:
- to organize a sustainable ecosystem that will enable people at the age of 51+ to become providers of digital services (even basic) for employers;
- to develop and adapt the innovative training systems for the formation of digital business and social competencies;
- to create confidence of industry and business representatives to the digital competence of people at the age of 51+;
- to form digital self-employment of persons of this age category through certification and ensuring the quality of their work.
The leading partner of the project is a public organization for business development - "Innoskart" (Hungary) and 13 following partners from 8 countries: Central Transdanubian Regional Innovation Agency (Hungary); PRIZNA Foundation for Improvement of Employment Possibilities (Slovenia); City Municipality of Maribor (Slovenia); Business Agency Association (Bulgaria); Bulgarian Industrial Association - Union of the Bulgarian Business (Bulgaria); Business Upper Austria – Plastics Cluster (Austria); Municipality of the capital city Prague (Czech Republic); Development Agency of Serbia (Bosnia and Herzegovina); DEXIC Innovation Centre (Czech Republic); Ivano-Frankivsk National Technical University of Oil and Gas; European Centre for Socio-Professional Integration (Romania); Romanian job market (Romania); National Employment Agency (Bulgaria).
The following associated partners are involved in the implementation and adaptation of the results: Ivano-Frankivsk Regional Employment Center (Ukraine), Vocational Training Center (Hungary), Network of Employment Centers (Austria), Fifty + (Czech Republic), Employment Service of Slovenia, Maribor Regional Office (Slovenia).
The implementation of the project will last 30 months (from 01.07.2020 until 31.12.2022). In accordance with these terms, a communication plan of the project is developed and a research of stakeholders (related participants) of its implementation is practiced. Besides, long and short list of territorial and advisory groups for development of the main tools of the project is generated, negotiations with potential members of the advisory group in the Ivano-Frankivsk region are held and Declarations are signed. The employment status of people at the age of 51+, their digital competencies and existing training programs for them are also studied. On this basis, a project Strategies for the Development of Digital Competences of People at the age of 51+ in the Danube Region is developed and presented.